I Electrified My Bike!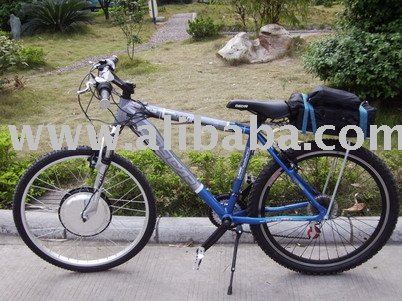 For the past few months, I've felt guilt and disgust about the dismal gas milage my VW Passat gets. (16 mpg in the city - geez, I might as well be driving a truck!) I've twisted myself into knots trying to decide if I should get rid of my 2003 gas guzzler and buy a Prius instead. But I worried that that choice would just lead to more waste, more car production, more cars on the road. So a few weeks ago, Jana mentioned the possibility of installing an electric motor on my bike. Brilliant!
After a couple of painful hours helping Mike install a new wheel, rack, and throttle, my beach cruiser is now electrified. (Mike's the best!) It's fantastic. I can pedal when I want or just sit back and let the motor take me to a nice 25 miles per hour. It even has enough juice to get me up the vicious East Peltason hill. Now I'm just waiting for the bike trailer I ordered, so I can take baby along with me.