Have I Finally Found My Destiny?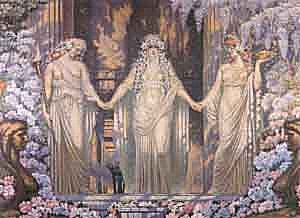 Last weekend I went to a sociology of religion conference with Mike. Fun! I got to hear sessions on Mormon motherhood, on Mormon women subverting and supporting patriarchy, on sexual harrassment in the Methodist church, etc.
While there I spoke to an LDS woman who is getting her doctorate in
Women and Religion at Claremont.
As I was talking with her, I was overwhelmed with excitement and the feeling that this just may be what I've been looking for. For so long I've been wanting to be a grad student in women's studies but I've not found a program close to home that would work. But this.... 45 minutes away, a new Mormon studies chair.... other than its exorbitant price it may just be perfect.
But I don't want to screw this one up. If I enter this I want to finish it. With a PhD. I think I should bide my time and really figure out if this is the field. And I need to figure out when I should do this. It may be that 7 or 8 years down the line might be best.